New York: May 4, 2021 – The Chamber Music Society of Lincoln Center (CMS) announces its long-awaited return to live concerts in Alice Tully Hall for the 2021-2022 Season with 30 concerts, comprising more than 94 unique works, 14 of which have never before been presented by CMS on the Alice Tully Hall stage. A large part of the season is dedicated to reviving almost all of the concerts that would otherwise have been lost due to the pandemic. CMS made the commitment to both artists and audiences to bring those concerts to fruition in a later season, and is proud to be offering them over the coming months.
Throughout the pandemic, CMS played a leadership role in the chamber music world by quickly pivoting to digital content and drawing on its vast HD archive to create a rich schedule of online offerings under the umbrella CMS Front Row. At the same time, the organization committed to supporting its musicians both financially and emotionally by providing fee-paying opportunities that would help keep them solvent and connected to their life's work. CMS created performing and speaking opportunities for its artists as part of the extensive slate of digital programming launched during the pandemic. In addition, CMS paid artists 50% of the fees they would have earned on cancelled concerts, and as those concerts are rescheduled this coming year, CMS will pay artists an additional 75% of their fees, for a total of 125%.
David Finckel and Wu Han, CMS Co-Artistic Directors
Photo: Lisa-Marie Mazzucco
CMS also offered its digital concerts to local presenters and venues around the U.S. and in Canada through Front Row: National. More than 60 chamber music presenters around North America have presented over 400 local CMS streaming events to their audiences this season, keeping audiences and presenters connected to each other and the music. Lily Carbone, Communications and Marketing Manager at Performance Santa Fe, said, "There are just not many producing organizations that were prepared to meet this digital need with as much quality and speed as CMS did. Plus, people really enjoyed getting to know the artists and hearing how they were coping with the pandemic [through CMS's newly recorded interviews and video material]." Kerryn Booth, Executive Director of Chamber Music Houston, said, "If not for the CMS streams, I really think I would have lost people. It would have been terrible if we had kept silent all year."
The return to live performances at Alice Tully Hall is a welcome step forward after a challenging year. "We were made keenly aware over this past year that a huge part of our experience as musicians is sensing the reactions of a living, breathing audience, which allows us to take the chances and go the extra artistic mile that don't happen in a practice room or even in front of a camera," said David Finckel and Wu Han, CMS Co-Artistic Directors. "Audiences will once again experience the thrill of in-the-moment music making along with the warmth of communal listening. All of these wonderful musical phenomena have been absent from our lives for far too long. So it is with great joy that we return home to Alice Tully Hall to present many of the concerts that have been delayed by the pandemic, but not lost to it, and much more."
In addition to its main stage series at Alice Tully Hall, CMS plans to return to a full slate of programming in 2021-22, adhering to current guidelines as they evolve in the coming months. CMS will announce at a later date touring engagements around the world, concerts and lectures in the Rose Studio, educational programs for adults and children, and a continuation and expansion of digital programming launched in 2020.
All concerts presented by CMS will adhere to strict safety guidelines that are informed by NY State, CDC, and other public health recommendations applicable at the time of the concerts.
"We are looking forward to welcoming our audience back home to Alice Tully Hall this fall and enjoying extraordinary concerts together," said Suzanne Davidson, CMS Executive Director. "We take our responsibility to ensure a safe environment for our guests, musicians, and staff very seriously and continue to consult with public health officials and experts to establish best practices and adhere to city and state guidelines. Taking extra care is a small price to pay to be able to safely gather together again, fulfilling the experience of seeing and hearing live chamber music this fall after such a long, long pause. I hope we can all resist the joyful urge to click our heels inside the concert hall."
Matthew Lipman and Wu Han (Photo: Tristan Cook)
SEASON HIGHLIGHTS
Opening Night
The 2021-22 season kicks off on October 19 with Opening Night: Road to Romanticism, a celebratory concert to welcome audiences back to Alice Tully Hall for the first time in what will have been almost 19 months. This concert fills the stage with string players, performing bold music to lift us forward, out of the haze of the pandemic, into a better tomorrow. The program begins with Beethoven and draws the audience forward through time with works by Hummel, Schubert, and Mendelssohn.
International String Quartets
The fabulous Italian Quartetto di Cremona finally makes its long-awaited Lincoln Center debut on CMS's International Quartet series on February 1. In the quartet's 20-year existence, it has established itself as one of Europe's leading ensembles, and the quartet's interpretations and performance appeal have endeared it to a wide and loyal audience. "Especially exciting in this program," says David Finckel, "is the pairing of two of the most challenging works in the quartet literature: the somber, intense first quartet of Prokofiev, and Schoenberg's epic first quartet, still in the hyper-expressive style of his early period. These works together will test both the stamina and artistry of the Cremona quartet, and for a taste of something completely different, we will also hear them in the effervescent, operatic clarinet quintet by Carl Maria von Weber, with veteran CMS clarinetist David Shifrin."
The Calidore String Quartet opens the series on October 24 with a program of dramatic works by Puccini, Brahms, and Webern, as well as Shostakovich's stunning Quartet No. 12, which is string-quartet writing at its best. And on April 3, CMS welcomes the Escher String Quartet, an ensemble that has evolved on the CMS stage and beyond into one of the world's most virtuosic and electrifying string quartets. The Escher was one of the first ensembles to participate in what is now the CMS Bowers Program for extraordinary emerging artists. On the program: quartets by Dvořák, Bartók, and Tchaikovsky.
Ida Kavafian and Anne McDermott (Photo: Tristan Cook)
The CMS Winter Festival
50th Anniversary Season "Milestones" Revisited
February 4 – March 29
With great pride, CMS delivers the promised completion of its epic 50th Anniversary Season "Milestones" programming, which was postponed due to the pandemic and has been transplanted to this season's Winter Festival. "These concerts," said David Finckel, "spotlight a diverse assortment of masterworks that tell the story of chamber music's evolution by showcasing consequential works in our art form's history from across centuries and oceans."
A brilliant highlight of the Winter Festival's exploration of chamber music milestones is Schoenberg's Verklärte Nacht (Transfigured Night)onMarch 18. This is the extraordinary work that combined not only Brahmsian romanticism with flights of modernism but also ushered into the chamber music genre a true tone poem sextet, which tells the story of conflict and reconciliation between lovers. Composed at the end of the 19th century and the dawn of the 20th, the work bridges ages and styles with such magic that it is now regarded as classic, unique in the chamber music literature. Milestone works will serve to anchor concerts throughout the Winter Festival: Messiaen's Quartet for the End of Time on February 4 (with Brahms and Stravinsky); Shostakovich's Piano Quintet on February 13 (with Beethoven and Mendelssohn); Beethoven's first Piano Trioon February 25 (with Debussy and Chausson); Mendelssohn's Octet on March 6 and 8 (with octets by Enescu and Shostakovich); and Mozart's Piano Quartet in G minor on March 15 (with Mendelssohn and Strauss). On March 27 and 29, the Winter Festival concludes with Gershwin's great American jazz "symphony," Rhapsody in Blue (for piano, four hands), along with Ravel, Milhaud and selections from a 1995 CMS co-commission by Wynton Marsalis, At the Octoroon Balls for String Quartet.
CMS Ensemble Performing Bach's Brandenburg Concertos

Baroque Traditions at CMS in December
The annual festivities begin with a rich sampling of Baroque Concertos on December 5 and 7, including four works that CMS brings to the stage of Alice Tully Hall for the first time: Albinoni's oboe concerto, Telemann's concerto for flute and oboe; Locatelli's violin concerto and Tartini's famously difficult virtuoso showcase, his cello concerto. Rounding out the program are classic concertos by Vivaldi and Bach. The feast of Solo Bach on December 10 and 12 gives audiences a rare opportunity to hear the distinctive Alice Tully organ, as well as solo pieces for piano, violin, cello, and lute. One of Bach's French Suites for keyboard and his Suite for lute are being performed by CMS for the first time in Alice Tully Hall. A December tradition now in its 28th year is CMS's annual presentation of Bach's Brandenburg Concertos to welcome in the holidays; this year, they are scheduled for December 17, 19, and 21.
Unusual Pairings and Rarely-Heard Repertoire
The magnificent Serenades for large wind ensembles by Dvořák and Mozart are rarely heard on stage, especially on the same program. So when CMS assembles a cast of the world's best wind players for Great Wind Serenades onNovember 5, it will be an international wind-fest not to be missed.
Frédéric Chopin gave the world some of its most beloved music, but sadly little in the way of chamber music. Chopin: Voice of the Poet on November 9 is an all-Chopin evening that combines the composer's ever-popular miniatures for solo piano with rarely-heard chamber works, notably his late cello sonata and mid-career piano trio. The solo piano works include three that are new to CMS at Alice Tully Hall – Chopin's Mazurka in A minor, Berceuse, and Ballade No. 1.
Spanish Inspirations, on November 14, explores rhythmic, colorful Spanish chamber music, which is not frequently performed on the concert stage. This spirited program was to open the 20-21 season last October: Boccherini's Quintet in E major and Shostakovich's Spanish Songs (both new to CMS at Alice Tully Hall); Cassadó's Trio; Sarasate's flashy and dance-inflected Navarra; andmusic by Ravel and Turina.
On January 18, Beethoven, Schulhoff, and Dvořák will fill Alice Tully Hall with quintets and sextets. CMS presents Beethoven's Quintet in C minor for Two Violins, Two Violas, and Cello, Op. 104 at Tully for the first time. It is joined by two sextets for two violins, two violas, and two cellos — Dvořák's Sextet in A major and Schulhoff's Sextet, which is not heard often enough. Both of these works, particularly the Schulhoff, reveal the paradoxical combination of intimacy and orchestral richness that is possible with a string sextet.
With The Innovators onMay 3, CMS presents an evening that pairs masterpieces of vocal chamber music with an instrumental work of stunning depth and structure. David Finckel calls this the "most anticipated program of the entire season, offering a trio of compositions that all deserve to be recognized among music's greatest inventions." Soprano Tony Arnold and pianist Juho Pohjonen perform songs by Debussy, the French genius who created groundbreaking advances in harmonic language. Pianist Gilbert Kalish joins Pohjonen for what is arguably Stravinsky's most famous (or infamous) work, the Rite of Spring, for four hands. And Kalish, who was at the piano for the premiere of George Crumb's hugely successful work, "Ancient Voices of Children," at the Library of Congress in 1970, brings that piece to life once again in this concert.
Carnival of the Animals
Bringing the Alice Tully Hall season to a gleeful close on May 15 and 17 will be two performances of a concert titled Carnival of the Animals. During the 17th and 18th centuries, composers replicated the actual sounds made by animals in some of their pieces, and the practice continued in the Romantic and modern eras. CMS sends listeners off to their summer holidays with a program filled with the noise of nature with music by Biber, Handel, Haydn, Copland, Debussy, and Saint-Saëns.
All programs are subject to change.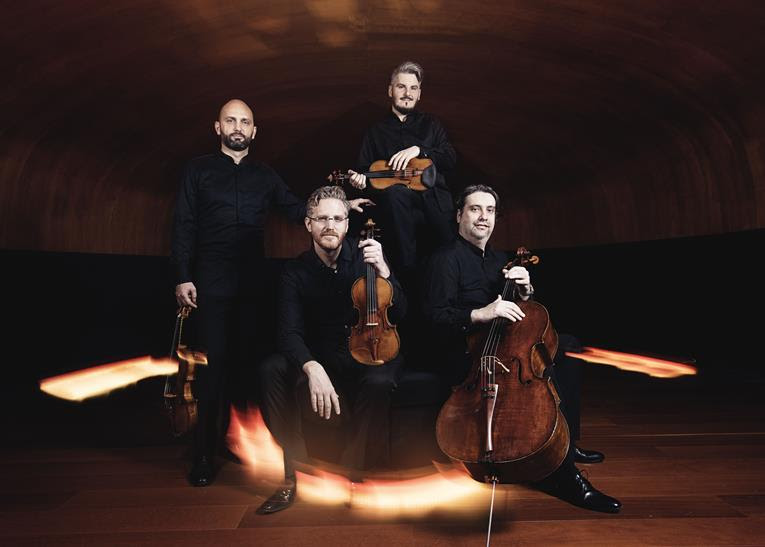 Quartetto di Cremona (Photo: Nikolaj Lund)