Honoring Luciano Pavarotti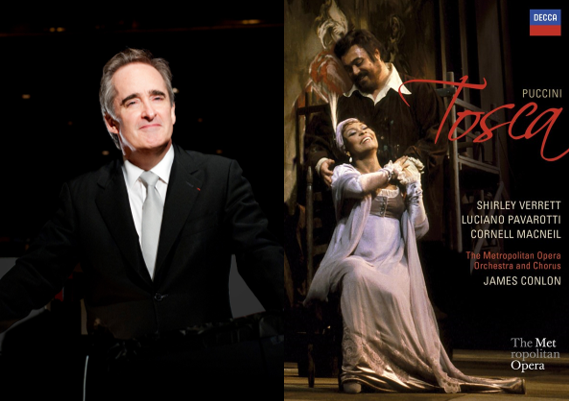 On Wednesday, August 24, the Hollywood Walk of Fame will unveil a star for legendary tenor Luciano Pavarotti, launching a two-day-long celebration. James Conlon, LA Opera's Music Director and a leading figure on the Los Angeles classical music scene, will take part in the unveiling ceremony and deliver a talk reflecting on his long, personal and professional relationship with the singer–one that began when Conlon first conducted him in the now-iconic 1978 production of Tosca at the Met. The unveiling ceremony will be broadcast live at 11:30 a.m. PT on walkoffame.com.
That same evening, at the Aero Theater in Santa Monic at 8:00 p.m. PT, Conlon will host and curate an event that includes screenings of two historic Pavarotti performances, both seen for the first time U.S.: a 1983 La Scala recital and a 1970 performance of Verdi's Messa da Requiem with the Rai Symphony Orchestra conducted by Claudio Abbado at the Basilica di Santa Maria Sopra Minerva in Rome. The event will also feature the premiere of a short film by director Gianluigi Toccafondo, "Luciano Pavarotti: the Star."
James Conlon returns to Ravinia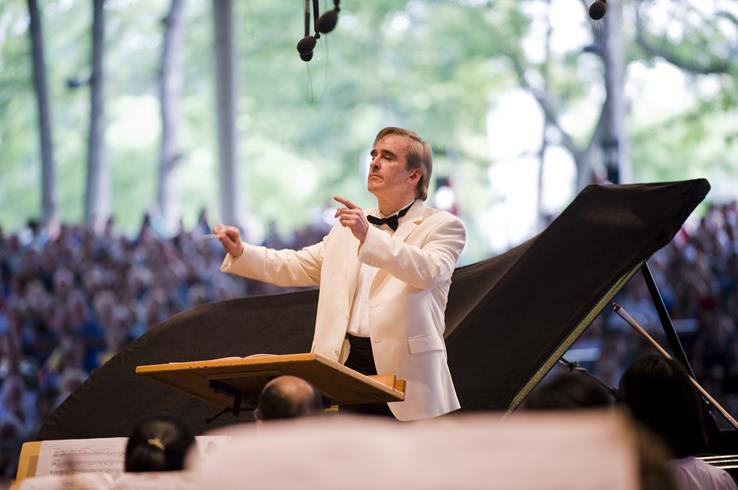 This month at the Ravinia Festival—summer home of the Chicago Symphony Orchestra—James Conlon returns to lead concert performances of two Mozart operas: Don Giovanni and La clemenza di Tito. Having conducted thousands of performances of Mozart operas over the course of his career, Conlon conducted his first ever Tito at LA Opera in 2019, with the San Francisco Classical Voice saying, "The brightest star of this production has to be James Conlon. The illuminating performance he conducted combined the light, melodic rapture of Cosi fan tutte, the Masonic-inspired humanity of The Magic Flute, and the magnitude of the Requiem."
Don Giovanni takes place August 11 & 13, with a cast that includes Lucas Meachem as Don Giovanni, Rachel Willis-Sørensen as Donna Anna, Saimir Pirgu as Don Ottavio, Nicole Car as Donna Elvira, and Craig Colclough as Leporello.
La clemenza di Tito is on August 12 & 14. Cast includes Matthew Polenzani as Tito, Guanqun Yu as Vitellia, Emily D'Angelo as Sesto, Janai Brugger as Servilia, Ashley Dixon as Annio, and Kristinn Sigmundsson as Publio.
"Recovered Voices: Schulhoff and More"
featured on the Violin Channel
The Violin Channel is now streaming James Conlon's "Recovered Voices 2021: Schulhoff and More" multimedia project. Conlon's Coburn School residency series, the Ziering-Conlon Initiative for Recovered Voices, champions composers whose lives were disrupted—or even ended—during the years of the Nazi regime in Europe.
This iteration of Recovered Voices focuses on composer Erwin Schulhoff, taking the form of four video chapters initially streamed through the Colburn School. Recently featured in the Los Angeles Times, the episodes highlight shared artistic elements between Schulhoff and his more well-known contemporaries, contextualizing the composer's work and life.
Conlon explains, "I am thrilled that we have found a way to push through the pandemic-related challenges and continue our mission through the streaming of our discussions. Reviving and nurturing the music of the victims of totalitarianism, like that of the extraordinarily innovative Erwin Schulhoff, is of vital importance. These efforts deny those regimes any posthumous victory, while also serving as a reminder to resist any contemporary or future impulse to define artistic standards on the basis of racist or exclusionary ideologies. My hope is that with the expanded, now-virtual reach of this year's series, we can reach an even larger audience to draw attention to the composers like Erwin Schulhoff, whose lives were shortened but whose music can live on through all of us."
Transfigured Night with Pittance Chamber Music
Conlon's recent performance of Schoenberg's Verkläerte Nacht and Zemlinsky's Maiblumen blühten überall is now available to stream online. Performed with members of the LA Opera Orchestra and soprano Liv Redplath, the concert examines the relationships between Schoenberg and Zemlinsky's life and art.
James Conlon at LA Opera: acclaim for Aida & a new season
Music Director James Conlon closed out his 2021-22 season performances at the LA Opera with a highly praised run of Verdi's Aida:
"The big voices of [the cast] soared over magnificent chorus and orchestra. James Conlon let it all gloriously ring. One could see the stage perfectly well in relief, and imagination filled in visual details. It all became amazingly believable." — Los Angeles Times

"Maestro James Conlon knows Verdi, let there be no doubts there. He was a galvanizing force all evening. An attentive and commanding accompanist for his singers he husbanded, with the help of his magnificent cast, both the most exciting Triumphal and Judgment scenes I've ever heard live. His dedication is to the composer not to himself and he doesn't overlay an egocentric "interpretation" onto the performance. We're listening to Verdi's Aida, not Conlon's, and I have no higher praise." — Parterre

"…the magnificent cast and the Los Angeles Opera Chorus and Orchestra centered the drama with force, precision and lyrical magic. Under the baton of James Conlon, a preeminent Verdi conductor, the diverse musical structure of Aida with its divine amalgam of moods and textures was brilliantly realized." — Seen and Heard International
Conlon's popular pre-opera talks also resumed with a spotlight on Aida. Talks can be heard via YouTube or podcast.
He will direct three operas during his 17th season as LA Opera's Music Director: Mozart's The Marriage of Figaro, Debussy's Pelléas et Mélisande, and Verdi's Otello.
February 4 – 26: Mozart's The Marriage of Figaro
Conlon leads a new co-production with the Théâtre des Champs-Elysées directed by filmmaker James Gray, with a cast including Craig Colclough as Figaro, Janai Brugger as Susanna, Ana María Martínez as the Countess, Lucas Meachem as the Count, and Rihab Chaieb as Cherubino.
March 25 – April 16: Debussy's Pelléas et Mélisande
Pelléas et Mélisande returns to the LA Opera after a 20 year absence in a production by Sir David McVicar. Sydney Mancasola and baritone Will Liverman play the title characters, Susan Graham makes her debut as Geneviève, and Ferruccio Furlanetto is King Arkel.
May 13 – June 4: Verdi's Otello
Continuing his life-long engagement with and passion for the music of Verdi, Conlon conducts LA Opera's first staging of Verdi's Otello since 2008. LA Opera's Artist-in-Residence Russell Thomas sings the title role, and soprano Rachel Willis-Sørensen makes her company debut as Desdemona. The cast also includes Igor Golovatenko as Iago, Morris Robinson as Lodovico, and Anthony Ciaramitaro as Cassio.
Upcoming this fall
September 21 – 30: Britten's Peter Grimes at the Bayerische Staatsoper
Conlon makes his Bayerische Staatsoper debut conducting Stephan Herheim's production of Britten's Peter Grimes. The tragic tale of a coastal British fishing village stars tenor Jonas Kaufman in the title role and soprano Rachel Willis-Sørensen as Ellen Orford. Rounding out the cast are mezzo-soprano Susan Bickley as Aunty, and bass-baritone Christopher Purves as Balstrode. Conlon is a champion of Britten's music and has conducted numerous Britten operas, choral, and symphonic works around the world. He traces his fascination with the composer back to 1967: "I attended two lieder recitals by Britten and Peter Pears at Hunter College. The memory of their renditions of Schubert's Die Winterreise and Schumann's Dichterliebe and Britten's songs made a deep impression on me. There were very few of his operas to be seen, although I was at the opening night of the Met's Peter Grimes with Jon Vickers in 1967, a production I was to conduct almost 30 years later at the Met."
October 6 – 9: Bernstein's "Kaddish" with the Baltimore Symphony Orchestra
James Conlon launches his second season as Artistic Advisor of the Baltimore Symphony Orchestra with a program of music and words featuring Bernstein's "Kaddish" Symphony with an updated text by Holocaust survivor Samuel Pisa, narrated by family members Judith and Leah Pisar. Soprano Erica Petrocelli is soloist, and is joined by the Maryland State Boychoir and the University of Maryland Concert Choir. The concert opens with Brahms' Tragic Overture and Franz Schreker's Prelude to Die Gezeichneten (The Stigmatized), the latter continuing Conlon's Recovered Voices series, which honors composers silenced by the Nazi regime, with the BSO.