New Jersey Symphony Celebrates Centennial Season with World Premiere Commissions
April 21-23, 2023
World Premiere of Steven Mackey's RIOT
Text by Former Poet Laureate Tracy K. Smith
Mezzo-Soprano Alicia Olatuja | Steven Mackey, Electric Guitar
Princeton University Glee Club
Also on the program: Mozart's Overture to Don Giovanni and Symphony No. 25 and Bruckner's Te Deum
Soprano Meigui Zhang | Mezzo-Soprano Jennifer Johnson Cano
Tenor Sean Panikkar | Bass-Baritone Nathan Berg | Princeton University Glee Club
Upcoming World Premieres
June 1-4 – Chen Yi's Landscape Impression for Orchestra
June 9-11 – Daniel Bernard Roumain's We Shall Not Be Moved: Symphonic Scenes and Samples
Xian Zhang, Music Director
njsymphony.org
NEWARK, NJ: April 12, 2023 — The New Jersey Symphony presents the world premiere of Steven Mackey's RIOT, with text by Former Poet Laureate Tracy K. Smith, on April 21-23. This is the second of four world premiere commissions offered in celebration of the Symphony's Centennial season. Upcoming commissions are Chen Yi's Landscape Impression for Orchestra, inspired by two ancient Chinese poems, and Daniel Bernard Roumain's We Shall Not Be Moved: Symphonic Scenes and Samples, a new orchestral work based on his 2017 opera about the MOVE bombing in Philadelphia.
Steven Mackey's RIOT, April 21-23
Performances in Princeton, Newark and New Brunswick
Xian Zhang, Conductor
A longtime resident of New Jersey and a professor of composition at Princeton University for nearly four decades, Steven Mackey is a frequent collaborator with the New Jersey Symphony and serves as Director of the symphony's Edward T. Cone Composition Institute, a tuition-free program designed to promote contemporary orchestral music by enhancing the careers of four emerging composers. As a teenager growing up in Northern California, Mackey was obsessed with blues-rock guitar; he is now a GRAMMY-winning composer of works for chamber ensemble, orchestra, dance, and opera.
Steven Mackey, composer and guitar | Alicia Olatuja, mezzo-soprano
Mackey had grand ambitions for the New Jersey Symphony Centennial commission. He imagined "my friends in the New Jersey Symphony joined on a packed stage by a vocal soloist, a chorus and myself on guitar, all singing and playing with abandon." He asked poet Tracy K. Smith (who was a colleague at Princeton) to collaborate with him and provide the text. "She knows how to make words sing," Mackey explained. As Mackey and Smith began to work on the piece in summer 2020, what began as a celebratory work shifted following the death of George Floyd to a piece that "foregrounds race and resilience." The first line written by Smith is a dark, personal statement that Mackey describes as setting up "the interplay between personal and communal, the soloist and the chorus":
This is followed by a series of six texts that "trace a trajectory that culminates in positive affirmation and a celebration of hope, perseverance, commitment, and community. The music aspires to honor that trajectory." Mackey's program note on the work can be found here.
For RIOT, the orchestra is joined by Mackey on electric guitar; mezzo-soprano Alicia Olatuja, who was catapulted into the spotlight after performing as the featured soloist with the Brooklyn Tabernacle Choir at President Barack Obama's Second Inauguration in 2013; and the Princeton University Glee Club Choir, the oldest and largest choir at Princeton University, directed by Gabriel Crouch. Music Director Xian Zhang conducts.

L to R: Nathan Berg, bass-baritone | Meigui Zhang, soprano | Sean Panikkar, tenor | Jennifer Johnson Cano, mezzo-soprano
The concert featuring Mackey's new work opens with Mozart's Symphony No. 25, and the second half features Mozart's Overture to Don Giovanni and Bruckner's choral work Te Deum, with guest vocalists Soprano Meigui Zhang, Mezzo-Soprano Jennifer Johnson Cano, Tenor Sean Panikkar, Bass-Baritone Nathan Berg, and the Princeton University Glee Club.
Friday, April 21, 8 pm (Princeton / Richardson Auditorium)
Saturday, April 22, 8 pm (Newark / NJ PAC)
Sunday, April 23, 3 pm (New Brunswick / State Theater)
For more information, visit New Jersey Symphony's event page.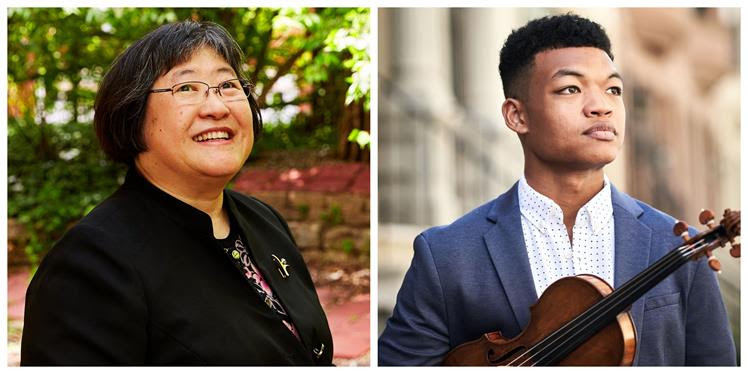 Chen Yi, composer | Randall Goosby, violin
UPCOMING WORLD PREMIERE COMMISSIONS
June 1-4
Chen Yi's Landscape Impression for Orchestra
Xian Zhang, Conductor
New Jersey Symphony Event Page
New Jersey Symphony's next Centennial Season world premiere, Landscape Impression for Orchestra, by Chen Yi, takes place June 1-4 in Newark, Princeton and New Brunswick. The music is inspired by two ancient Chinese poems by Su Dong-Po (aka Su Shi, 1036-1101), written in 1072 and 1073. The two sister poems are entitled Landscape and The West Lake.
Landscape (1072)
Like spilt ink dark clouds spread o'er the hills as a pall / Like bouncing pearls, the raindrops in the boat run riot. / A sudden rolling gale comes and dispels them all, / Below Lake View Pavilion sky-mirrored water's quiet.

The West Lake (1073)
The glittering waves delight the eye on sunny days, / The dimming hills give a rare view in rainy haze. / The West Lake looks like the fair lady at her best, / Whether she is richly adorned or plainly dressed.
Chen Yi is the first woman to have received a Master of Arts degree in music composition from the Central Conservatory of Music in Beijing, and she is widely recognized for transcending musical and cultural boundaries in her blending of Chinese and Western traditions. Dr. Chen is a cultural ambassador who has introduced hundreds of new compositions and a large number of musicians from the East and the West to music and educational exchange programs in the US, the UK, Germany, and Asian countries.
The concert opens with Chen Yi's new work, which is followed by Stravinsky's Suite from Pulcinella, and concludes with Tchaikovsky's Violin Concerto featuring Randall Goosby.
Thursday, June 1, 1:30 pm (Newark / NJ PAC)
Friday, June 2, 8 pm (Princeton / Richardson Auditorium)
Saturday, June 3, 8 pm (Newark / NJ PAC)
Sunday, June 4, 3 pm (New Brunswick / State Theater)
New Jersey Symphony Event Page
Daniel Bernard Roumain, composer and violin | Becky Bass, vocalist
June 9-11
2022-23 Centennial Season Finale
Daniel Bernard Roumain's We Shall Not Be Moved: Symphonic Scenes and Samples
Xian Zhang, Conductor
New Jersey Symphony Event Page
For the Season Finale, the New Jersey Symphony premieres a new commission from Resident Artistic Catalyst, violinist, composer and musical polymath Daniel Bernard Roumain (DBR).
The new work, Symphonic Scenes and Samples, is adapted from DBR's 2017 opera, We Shall Not Be Moved, a collaboration with librettist Marc Bamuthi Joseph and choreographer Bill T. Jones, first produced by Opera Philadelphia. The opera examined the legacy of the 1985 MOVE bombing, in which a Philadelphia police helicopter bombed a residence occupied by the MOVE organization and ignited a fire that killed 11 people and destroyed 62 homes.
To create the new work, DBR plumbed the operatic score and recast it for a large orchestra. "The musical material has been recast into a dense, pulsating symphonic landscape where the operatic arias and choruses have been replaced with each section of the ensemble," DBR says in his composer's note. "The theme of the opera centered on the tragedy of the Philadelphia MOVE organization's confrontation with law enforcement…So the music begins and ends with sorrow, a plea from the brilliant Marc Bamuthi Joseph's libretto for us to all be '…capable of something better.'"
The orchestra is joined by Rhode Island-based vocalist Becky Bass, who hails from St.Croix, US Virgin Islands, and is also a renowned steel drummer and actor and a two-time New England Urban Music Award winner.
The New York Times described Daniel Bernard Roumain as "About as omnivorous as a contemporary artist gets." The composer's collaborators span Philip Glass, Bill T. Jones, Savion Glover and Lady Gaga. Known for his signature violin sounds infused with myriad electronic, urban and African American music influences, DBR is a composer of chamber, orchestral and operatic works. DBR earned his doctorate in Music Composition from the University of Michigan and is currently Institute Professor and Professor of Practice at Arizona State University. In his role as Resident Artistic Catalyst, DBR is at the forefront of the Symphony's efforts to meaningfully increase diversity, equity and inclusion.
DBR's Symphonic Scenes and Samples opens the concert and is followed by superstar violinist Joshua Bell performing Bruch's Violin Concerto No. 1. The orchestra brings the evening—and the season—to a rousing finish with Stravinsky's The Rite of Spring.
Friday, June 9, 8 pm (Newark / NJ PAC)
Saturday, June 10, 8 pm (Red Bank / Count Basie Center)
Sunday, June 11, 3 pm (Newark / NJ PAC)
New Jersey Symphony Event Page
The Emmy and Grammy Award-winning New Jersey Symphony, celebrating its Centennial Season in 2022–23, is redefining what it means to be a nationally leading, relevant orchestra in the 21st century. We are renewing our deeply rooted commitment to diversity, equity and inclusion by championing new, and often local, artists; engaging audiences for whom the inspiring depth and breadth of classical music will be new; and incorporating the broadest possible representation in all aspects of our organization—all to better reflect and serve our vibrant communities. Since 2021, Music Director Xian Zhang has worked together with composer, violinist, educator and social-justice advocate Daniel Bernard Roumain, the orchestra's resident artistic catalyst, to offer programming that connects with diverse communities in Newark and throughout New Jersey.
Internationally renowned Chinese American conductor Xian Zhang began her tenure as the New Jersey Symphony's current Music Director in 2016. Since her arrival at the New Jersey Symphony, Zhang has revitalized programming with an industry-leading commitment to diversity, equity and inclusion in mainstage concerts. The centennial season opened in October with concerts featuring Rachmaninoff's Third Piano Concerto with soloist Yefim Bronfman; Jessie Montgomery's Banner; Nimbus Dance performing original choreography to Copland's Appalachian Spring Suite; Strauss' Burleske for Piano and Orchestra with soloist Michelle Cann; Brahms' Fourth Symphony; and Dorothy Chang's Northern Star. The centennial season will conclude in June 2023 with Zhang leading the orchestra and violinist Joshua Bell in Bruch's Violin Concerto No. 1, Stravinsky's Rite of Spring and a commissioned world premiere by Daniel Bernard Roumain.
For more information about the New Jersey Symphony, visit www.njsymphony.org or email information@njsymphony.org. Tickets are available for purchase by phone 1.800.ALLEGRO (255.3476) or on the Orchestra's website.