► Live orchestral performances
featuring up to 40 musicians
► Online concerts in May featuring guest artists
Janine Jansen, Nina Stemme, Alan Gilbert & Martin Fröst
► All concerts available to watch for free – live on the orchestra's website, Facebook and for up to one year on Konserthuset Play
► Established Konserthuset Play platform
provides top quality audiovisual streams
Wednesday, 13 May 2020 at 19.00 h CET

Royal Stockholm Philharmonic Orchestra
Janine Jansen leader & violin soloist

J. S. Bach: Violin Concerto No. 2 in E major
Beethoven: Septet in E flat major
Wednesday, 20 May 2020 at 19.00 h CET

Royal Stockholm Philharmonic Orchestra
Alan Gilbert conductor
Nina Stemme soprano

Debussy: Prélude à l'après-midi d'un faune
Wagner: Wesendonck Lieder arr Felix Mottl
Schubert: Symphony No. 8 Unfinished
Wednesday, 27 May 2020 at 19.00 h CET

Royal Stockholm Philharmonic Orchestra
Martin Fröst conductor & clarinet soloist

Piazzolla: Oblivión, version for clarinet and string orchestra
Copland: Clarinet Concerto
Beethoven: Symphony No. 1
The experience is already familiar to everyone in the classical music business – famous orchestras reduced to a handful of musicians valiantly bringing live music to their audiences online. Yet in Sweden – where the government's approach to Covid 19 has been different to nearly every other nation by not going into lockdown – larger, socially distanced groups are permitted and orchestras across the country have been reaping the benefits.
Since the beginning of April the Royal Stockholm Philharmonic has been performing weekly on stage with up to 40 musicians at any one time, offering regular live concerts on their website, Facebook and established online platform Konserthuset Play, whilst public events continue to be on hold.
Stefan Forsberg, Executive & Artistic Director of the Royal Stockholm Philharmonic and Konserthuset Stockholm, commented:
"I am grateful and humbled that in these difficult times we can still maintain our music making with the orchestra, although in a different way. Adhering with the social distancing rules and adapting our programmes accordingly, we can play for large audiences, even though the hall is empty.The feedback has been overwhelming; people express a deep gratitude for what the Royal Stockholm Philharmonic is doing for them. It is a proof that arts can be of great importance to all who are in social isolation."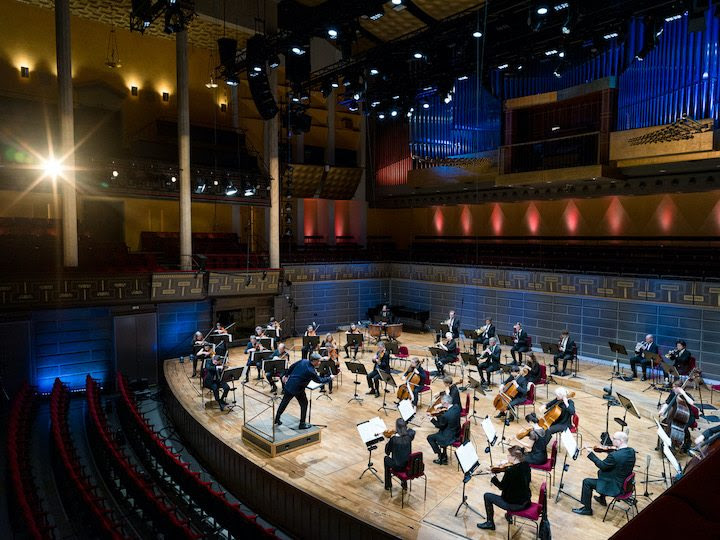 Alan Gilbert conducting the Royal Stockholm Philharmonic
live in concert on 16 April
photo credit: Yanan Li
This month the orchestra has managed to pull out all the stops by engaging four internationally acclaimed Stockholm based artists who would usually have been rehearsing or performing elsewhere; Janine Jansen leads the orchestra when she would normally have been on stage in Tokyo; Nina Stemme performs at a time when she should have been in rehearsal at the Royal Opera House in London and Martin Fröst performs and directs when he would typically have been preparing for a new premiere in Paris. Alan Gilbert, meanwhile, has been generously sharing his time between the Royal Stockholm Philharmonic, of which he is Conductor Laureate, and the Royal Swedish Opera, where he takes up the baton as Music Director in 2021.
All the current live-streamed performances are part of a complete re-scheduling which includes 3 – 4 free weekly concerts. In addition to orchestral performances, programming includes chamber music and jazz, featuring both members of the Royal Stockholm Philharmonic and freelance musicians.
Meanwhile, although there is no confirmation yet on whether Sweden's orchestras may be able to open their doors again to the public this autumn, the Royal Stockholm Philharmonic has launched ticket sales for its 2020/21 season, offering an "open purchase" guarantee to subscribers which allows ticket buyers to cancel up to one week before the start of each series and be fully reimbursed. As a result, sales have so far been encouraging, giving hope to musicians and public alike for their final season with Sakari Oramo.
"We do not know what the autumn has in store for any of us yet" says Stefan Forsberg "but continuing to give hope to our musicians and audience is our number one agenda."