The Queen's Cartoonists
Mozart's Jazz Requiem out September 8
Using Mozart's sense of humor as a guide, Pierson re-composed the Requiem à la Raymond Scott and John Kirby to create this "wildly original take on Vienna's greatest export."
NEW YORK, August 15, 2023– On September 8, the jazz sextet (TQC) will release Mozart's Jazz Requiem, re-orchestrated by bandleader and pianist Dr. Joel Pierson. "Mozart died without finishing his Requiem," Pierson says. "The Queen's Cartoonists are here to finish the job."
Using Mozart's renowned sense of humor as a guide, Pierson re-composed this "tribute to one of the greatest pieces ever written" in the style of Raymond Scott and John Kirby, "with a hint of modern jazz in there, too." All of Mozart's original themes are present in this "wildly original take on Vienna's greatest export," Pierson explains. "It's a reverent but quirky modernization of Mozart's greatest work."
Maintaining their mission to bring animated films to life, TQC will release five Requiem-themed music videos to complement select tracks from the album, each carefully curated to synchronize with their respective movements. These will be available to view on TQC's website and YouTube channel.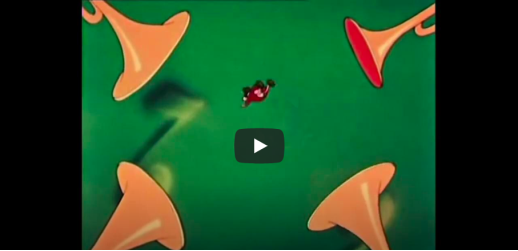 Kyrie + Dies Irae: The Queen's Cartoonists present famous cartoon death scenes set to the music of the Cartoon Requiem. Click to watch.
"We are such a visual project, and that's what makes us special. It's jazz and a little bit of classical, and it all revolves around animated films," Pierson said.
It was a challenge to find a piece that would work as a stand-alone recording. Pierson found his inspiration in innovative works like Max Richter's Recomposed version of Vivaldi's Four Seasons and Duke Ellington's arrangements of The Nutcracker and Peer Gynt. "The idea of taking Mozart's Requiem and turning it upside down is in line with what we do on stage," he says. "We take a serious venue and a serious genre of music and turn it into a fun and engaging audience experience. Mozart's Jazz Requiem is the same idea – it's a chance for us to make a recording that hopefully can be taken very seriously by people in the classical music and jazz music communities but maintains TQC's signature playfulness."
Mozart's Jazz Requiem
The Queen's Cartoonists:
Joel Pierson – piano
Rossen Nedelchev – drums
Mark Phillips – clarinet, alto sax, soprano sax, flute
Greg Hammontree – trumpet, trombone
Drew Pitcher – tenor sax, bass clarinet
Steve Whipple – bass
Special Guests:
Jon Singer – xylophone (2, 10), marimba (7),
Samantha Lake – tuba (3, 6)
Jennifer Wharton – bass trombone (1, 2, 4, 6, 12, 13)
Tatum Greenblatt – trumpet (8)
Wayne Tucker – trumpet (8)
Since their founding in 2015, The Queen's Cartoonists have garnered acclaim for their stage shows in which they perform live in front of a screen where cartoons from the golden age of animation, cult cartoon classics, and modern animated films are projected. The band – led by Joel Pierson at the piano and including Greg Hammontree (trumpet, trombone), Mark Phillips (clarinet, soprano saxophone), Drew Pitcher (flute, tenor saxophone), Rossen Nedelchev (drums), and a rotating cast of bassists – either recreates a cartoon's soundtrack note-for-note or write their own fresh compositions to accompany the on-screen action. TQC will present four movements of Mozart's Jazz Requiem live on their 2023-24 international tour in anticipation of a fully staged live version in subsequent seasons.
The Queen's Cartoonists 2023-24 Tour
For more information visit thequeenscartoonists.com